What goes into your decision to choose one brand over another when making a purchase? Maybe you can relate to their marketing, you feel like they really get you, or they share your same values. Is it all about price & functionality, or does status play a bigger role? Maybe you are looking for sustainability & ethics in a brand, while someone else really cares about how it makes them feel in the moment. Most likely it's a combination of all of these things; the reasons behind a decision are as individual as the person making it. Here are a few brands that have us drooling and why their marketing is working for us.
BarkBox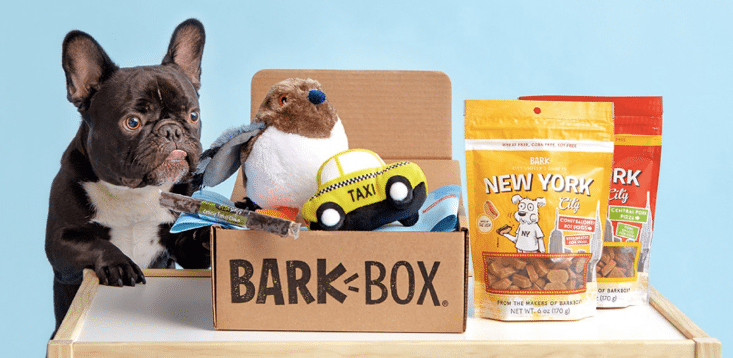 Besides the incredibly cute logo, this doggie-centric brand catches our eye because it's all about the experience. Bark makes the toys that go in the box, but what really created a buzz is the moment you open that box with your dog. Unboxing has been a trend since 2006 and is not going anywhere in 2020; people really love to share their unboxing experience. #BarkBoxDay has over 230k public posts on Instagram alone, putting them on the map as one of the most popular subscription box services.
With funny videos like "Dog Mom Rap" and "How to Apologies to your Dog" Bark's marketing team really knows their audience. They've expanded their line to be sold in Target stores as well as available directly from Bark, but it's the boxes that really set them apart. BarkBox is made by dog people, for dogs (and their people).. what more could you ask for?
Pact

Finally! A brand built around accountability and transparency, AND you get soft, comfortable clothing. Plus, it's not super expensive! Pact prides itself on making "guilt-free fashion", and you can rest assured your clothing is made with non-GMO organic cotton, free from toxic dyes and pesticides, sweatshops and child labor. And with apparel being the second most toxic industry on the planet, these ethical and sustainable practices are not easy to come by. While brand status means less and less to consumers, more and more people are looking for clothing they can feel good about, as well as feel good in. With the world's first fair-trade certified factory, this Colorado-based company delivers just that.
Besides making you want to replace your entire underwear drawer, they've expanded their line over the last 10 years to include all the basics such as tees, sweaters, hoodies, pajamas, dresses, kids wear, and even bedding and bath. We love every piece of clothing we've tried so far, and keep going back for more.
S'well

The goal: to reduce single-use plastic consumption. The marketing strategy: covetable. Who would have thought bottles could be so chic! One of the fastest-growing women-owned companies in the US, S'well partners with charitable organizations to help build clean-water infrastructure, educate on water-born illnesses, and promote sustainability to make a lasting change in the world. Their Million Bottle Project encourages large corporations to take the pledge and join the movement to #reducetheuse of single-use plastic bottles. But what really makes them popular is the sleek designs and the lifestyle marketing, making it the must-have item to be seen with and oh-so Instagrammable.
S'well releases a new collection of designs and colors every 6 months, such as 'stone', 'metallic camo' or 'resort', and once they're gone, they're gone. Recently they've expanded the line to include travelers, tumblers, commuters, roamers, bar wear, and even food containers. You can customize them with your name or initials for a special touch, or find the perfect gift everyone will love for that office gift exchange. They've created the perfect blend of fabulous and functional and we can't get enough of them.