Did you know the average Instagram user spends an impressive 53 minutes a day on the app? On one side of the equation, that spells out some sad realities for the modern world. On the other side, as a marketer, I can't help but see the opportunity for increased profits. Whether you're reaping the benefits of this Instagram statistic or not, there's no doubt that the Insta craze has changed the face of digital marketing forever. Here are some of the most notable examples:
The visuals of what you're selling matter way more than in the past
Photography is everything. Even if you aren't advertising on Instagram, with the rise of the app, consumers have become accustomed to seeing eye catching imagery all around them. With this in mind, make sure you strategically think about all your imagery, ranging from product photography to lifestyle images. This doesn't mean that all of your photos have to be professionally shot and edited. That may be important for some brands, but not right for you. The truth is, you want to stay authentic.
It's way easier to reach a mass audience for free (or relatively cheaply)
Social networks have revolutionized customer relations by giving companies an additional touchpoint to reach their consumers for free. Now, anybody that likes your page can be reached completely free of charge. And even those who don't like your page, but interact with similar content, can reach your content free of charge to you. This is largely due to Instagram's explore feature. You also have the ability to promote your content to new audiences through paid advertising. With the right targeting, you can often reach your desired audience for a reasonable price.
You now have the ability to go live directly with your followers
Not only can you reach your followers for free with in-feed posts (as mentioned above), but you can also communicate with your followers for free with live video or with your story. This content can come in many different forms. For example, you can live stream an event you're putting on for those who are not able to attend to see. You can also do a live Q&A with your brand's closest followers.
Shopping is now possible without even leaving the platform
Instagram recently launched a feature that let's app users shop directly from social posts and it's genius. App users now have the ability to tap on the image, click on the subsequent product they are interested in, and check out directly on the app, significantly cutting down the number of steps the user has to take before they pay you. Top brands like Warby Parker are capitalizing on this feature. Maybe you should as well.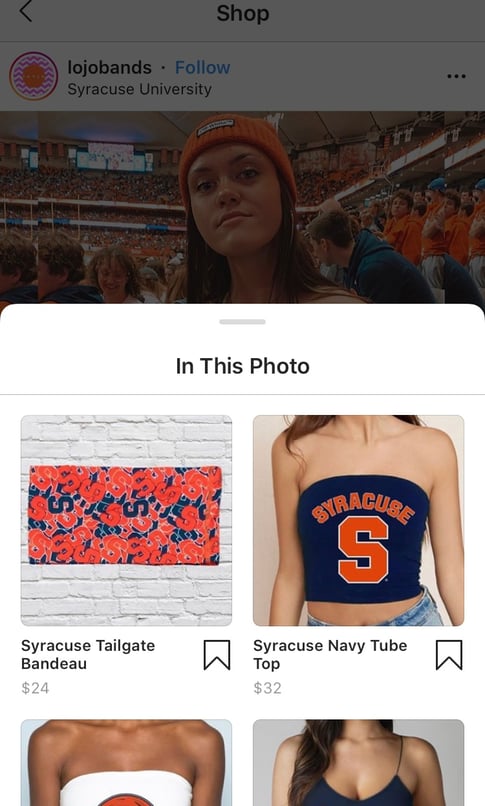 Influencers are changing the game
Influencers are changing the way people interact with brands in drastic ways. People are now trusting influencers - whom they follow on social platforms - to tell them what products are trendy and must haves. It's similar to the concept of word of mouth marketing, where consumers are more likely to trust a brand's products when someone other than the company itself is promoting them.
Tip: Be careful when choosing influencers. Many influencers will take free products and money to promote your brand even if they don't align with the product. For influencer marketing to actually work, make sure your influencer aligns with the product you are promoting and is a true advocate for you.
Your feed serves as backlog of content for people to scour through
Forgetting about sponsored advertising for a second, one of the most notable features of Instagram is that it serves as a backlog of all of the content you have ever posted on the platform. In traditional advertising, this isn't the case, where once you post something on a billboard and it comes down, it's gone forever. That's not the case for Instagram, since the platform makes it so easy to scroll through all your past posts. On one hand, it can be a great way to show page viewers consistency in your posts and values you hold dear. On the other hand, it can come back to bite you if controversial old content rears its ugly head. Some things that were acceptable in 2010, just don't fly anymore. Consider cleaning up your page and deleting content that doesn't fit your brand's image.
It can be challenging navigating the murky waters of Instagram's ever-changing platform, but that shouldn't be a reason to be afraid of it. The most innovative companies are using Instagram to increase revenues and you can too. Need some help? Let's talk.