When I started this company in my extra bedroom in Los Angeles working on club flyers, I had no idea I'd end up working from my extra bedroom in New Orleans, thanks to COVID. It has been an interesting 20-year journey that has taken us through a few presidents, a stock market crash, many, MANY Apple products, and a myriad of storage devices (remember JAZ drives?). I have had the honor to work with some incredibly talented people who have gone off to work for companies like Lyft, YouTube, Estée Lauder, and Google, or to start their own businesses. And I currently have the best team in the business!
Following is a brief history of Communify (previously known as dustin w design):
Twenty Years
(Part One: The Los Angeles Years)
With a background in graphic design and animation, having worked on one animated movie ("South Park: Bigger, Longer and Uncut"), and at a small agency for a year, I set out on my own. For the first two years, I worked out of my extra bedroom part of the time for clients, and part on short animated films. A few of my clients included a new West Hollywood bar called "here", Tom Whitman Presents, and Outfest. These were branding projects that often included websites and ads. I learned how to do a little of everything, which has been helpful throughout my career.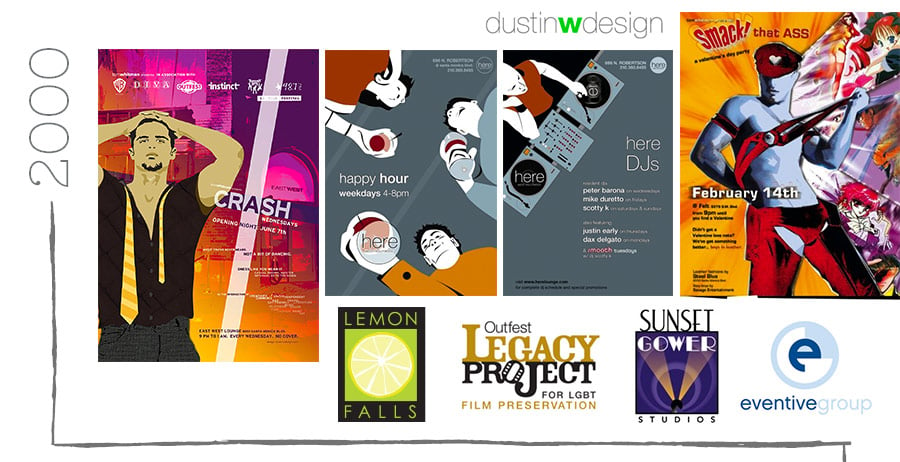 After a couple of years, I moved into a shared office space and eventually hired an assistant designer. We worked with Plug Lighting, Neumayr Architects, and started doing multiple flash websites for Warner Bros DVD releases. This was our first introduction to the entertainment industry which has become an important pillar of our work.
A partnership with Masterbeat allowed us to work in the music and events industries creating high-end event graphics and CD covers along with our continued work with LGBTQ community organizations such as LA Pride and AIDS Project Los Angeles.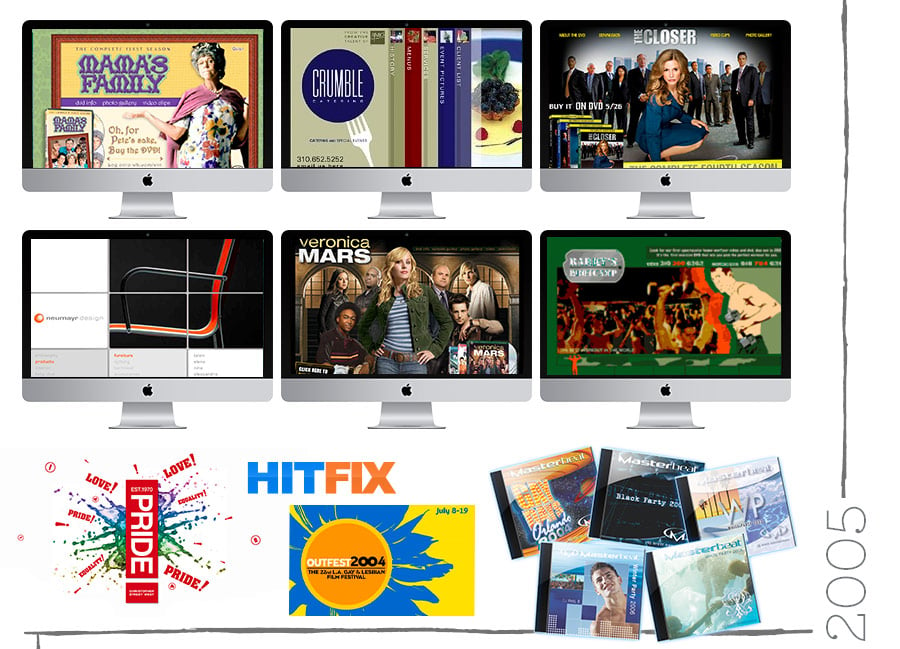 In 2005 I met my now-husband (me living in LA, he in New Orleans) which is why I started visiting, and eventually moving to NOLA. The company continued to operate out of LA and I was going back every 2-3 weeks for meetings and to work with our designers. We ended up closing the LA office mid-2009 and a new adventure began in New Orleans.
While digital and website design have been a large percentage of our work, we've also done some pretty amazing branding and print projects. From product catalogs to postcards to annual reports, we've worked with clients across many industries.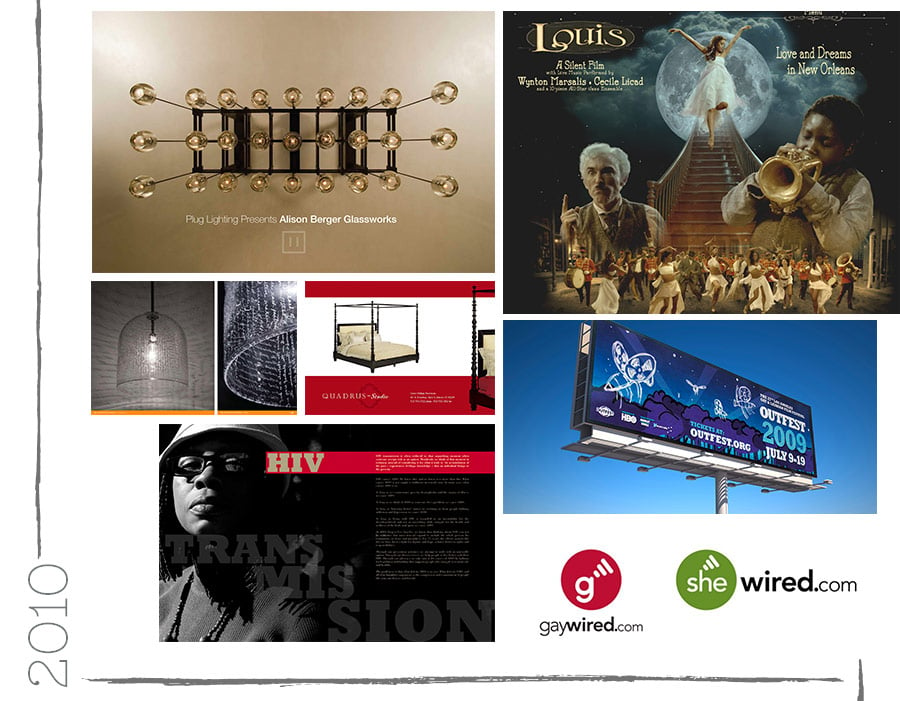 (Part Two: The New Orleans Years)
Working out of a little one-room office on the ground floor of a law firm worked out perfectly for a business reboot. I kept a few clients and continued to work with a couple of designers, while also acquainting myself with a new city.
As clients changed jobs over the years, they took us with them (thanks Blad!). This is what brought us to doing our first movie websites, one of which (Into the Wild) earned us a Webby nod. Academy Award campaigns provided some crazy challenges (like swapping live banners on the mornings of nominations and awards announcements), but was incredible to be a part of bringing a film like The Artist to that number one spot.
One piece of advice I'd offer any young agency owner (or designer for that matter) is to treat everyone with respect and do your best work always - you never know when that assistant might become the boss somewhere else.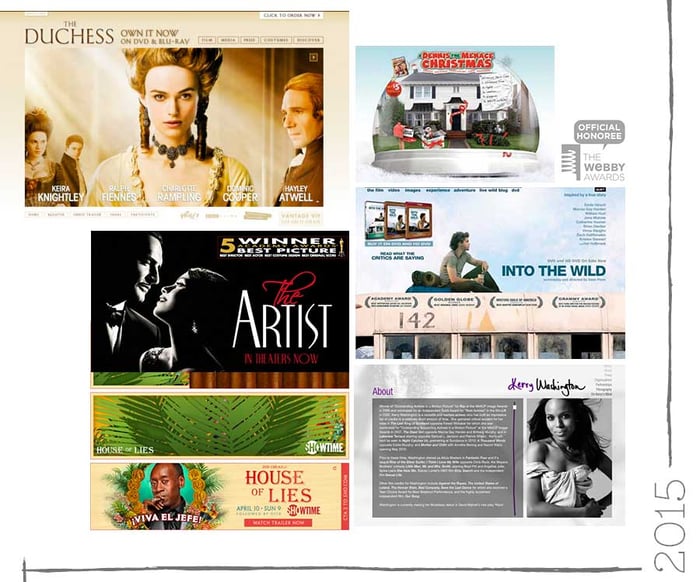 Getting involved with HNO, a non-profit organization raising money for HIV/AIDS eventually connected me to New Orleans Tourism. The world of travel and hospitality became our new playground, and our work bringing New Orleans to the world stage for LGBTQ travel has been one of our most rewarding undertakings, for which we were awarded Louisiana Travel Campaign of the Year. If you haven't seen them, be sure to check out the series we created hosted by Varla Jean Merman.
Entertainment and Tourism continue to be our two largest pillars as we started to work with Showtime and Smithsonian as well as doing LGBTQ travel campaigns for Visit Salt Lake and Condor Airlines. We also started strategic partnerships with other agencies including Ion Marketing Group and Brand|Pride who work in experiential and promotional marketing respectively.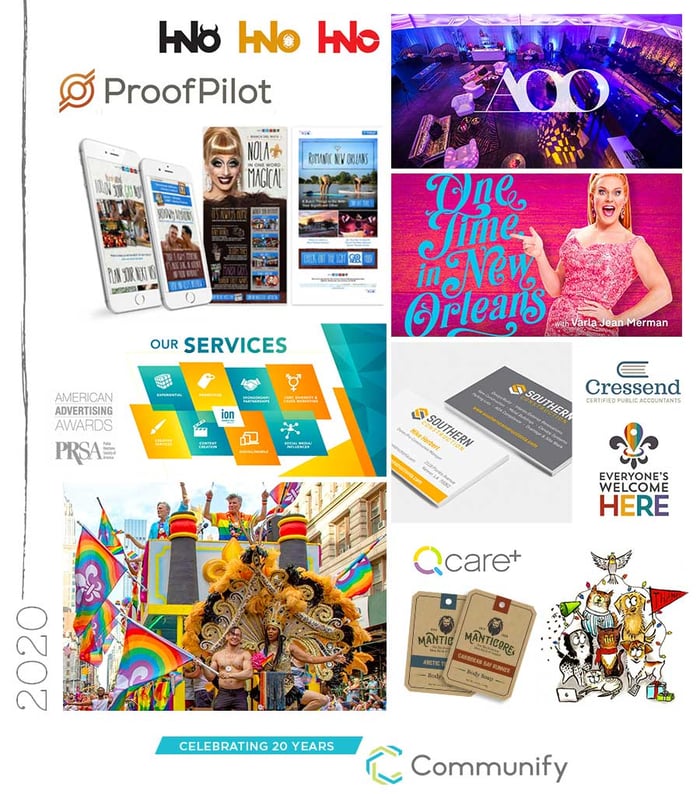 COVID brought us a little scare as our focus on LGBTQ destination and event marketing paused. Our team worked tirelessly to help out our clients and partners as much as possible as well as looking for new ways to grow. As companies were reminded about the importance of their online presence, our branding and website development work has dramatically increased. A few of our new clients this year include Krispy Krunchy Chicken, Atlantis Events, Manticore and Q Care+.
So, until we can throw a big celebration, we hope this walk down memory lane has been fun (it definitely was for us). Our core mantra of "better together" has really held strong through this time, as staying connected and strengthening relationships has been the most important thing during this crazy year.