Throughout this pandemic, we've advised destinations to update their websites, freshen photography, connect with local community organizations, and keep a thread of awareness out there. Now it's imperative that you make the necessary changes to your website, blog, and other owned properties so you are not giving misinformation. Many queer travelers are hitting their tipping points and are starting to make plans for some sort of travel. (We've said before… LGBTQ travelers tend to be first to travel, so have content ready for them.)
It's time to get your message out and start creating some wanderlust. People are figuring out how to adapt, and finding their individual comfort zones. Here are a few ideas on how to get back out there.
Start With Hello
You may have stopped sending your LGBTQ focused newsletter. You may have stopped posting LGBTQ messaging on your social feeds. After you make the necessary updates on your website or blogs, it's time to let people know what's available, what's open, especially if this is a market you've invested time in - they want to hear from you. If you haven't, now is a great time to start.
Be Inspirational
We're all online a lot right now. Travelers are more open to exploring different types of trips than they normally would. Show us something different, pique our interest. Show us what makes your destination unique. This is a time you can probably get away with more "beauty shots" of your city or attractions with few or no people, which I'm sure you all have.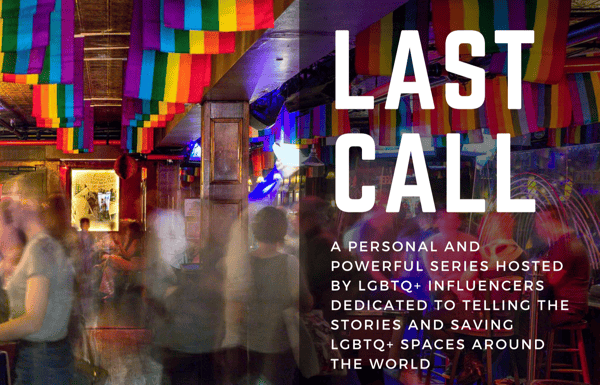 Not sure what to talk about? How about highlighting one of your LGBTQ spaces that are in jeopardy of closing. We are partnering with Gaybors Agency and Outfest Now to bring together a series of stories focused on these important spaces. Shoot me an email if you want to learn more.
Outdoor Adventures
Those who are more cautious about travel right now will be looking for places they can get to easily (without flying) and that have more outdoor options. What's happening in your destination as it relates to outdoor dining, outdoor "drive-in" concerts, hiking, swamp tours? Those types of activities should perform really well now. Look to your local LGBTQ publications to help spread the word.
Unique Activities
While most Pride celebrations canceled this year, Utah Pride Center pushed themselves to try something new. They created a reverse parade where participants did the driving flanked by "booths" where sponsors could cheer, watch, and display. Visit Salt Lake brought their Airstream, T-Mobile and many local companies participated.
The more connected you are with your local LGBTQ (and other) organizations, the more of these types of events you'll be aware of and can add value to your marketing efforts. If you need help figuring out where to start, schedule a time to chat.
What to stay away from:
Images or videos with large groups. We can't do that now and it feels wrong when you see it. Instead focus on LGBTQ couples/families or smaller groups.
Pushy CTAs. Be more inspirational because each traveler will be at a different level of comfort. If I'm not ready, a "Book now" CTA may turn me off, whereas if you invite me to read more, I may do that.
Don't stay silent. Each day you're not inspiring people, another destination is.
What have you got? Inspire me!