With Covid-19 hitting the world hard, the way we work has changed considerably. These days instead of working in an office space surrounded by colleagues, we are working from the bedroom or a spare room (if you are lucky enough) at home. Sure the idea of working from home has been the dream for many people including myself, but the circumstances have made that dream feel like it has come at a price. But for now, that is the new "normal" for me and many others.
As a Graphic Designer in this new "normal", how do you keep the creative juices flowing day by day? Don't get me wrong, working from home has been nice but that isolation does start to get to you and affect your work especially on a creative level. There have been times when I have looked at a blank sketchbook or blank computer screen for an hour because of a lack of creative motivation. Usually, to get out of that you talk to your colleagues to the right or left and bounce ideas around or just to chat and have some laughs. Those days are gone (for now) and you have to find new ways to motivate yourself to work alone.
Start Your Day Off Right
Let's talk about some of the ways that have worked for me to stay motivated during this time. The first thing that I have to do (or my day is already a wreck) is to get up and get dressed. Half the battle is won right there. Just changing out of your pajamas and into some fresh clothes can make a world of difference in your workday. If that isn't enough to get you moving, I suggest eating some breakfast and grabbing a cup of Joe (for all you coffee drinkers out there). I usually tend to watch a Youtube video or two while eating my breakfast, but just as a warning DO NOT go down the YouTube rabbit hole, or next thing you know 5 hours will go by without doing any work.
To make sure this doesn't happen, schedule your day in blocks. Make sure each block consists of scheduled time to work on a specific project and break activity. This will help you achieve more throughout the day and not spend too much time on one project or sit in front of a computer screen all day. Go eat lunch at one of your favorite eating spots or take a walk outside. That walk can really give you that second wind to bust out some great designs. Another break activity that I've picked up is to grab my small sketchbook and draw random doodles just for fun. This may be one of the top new things added to my daily routine that has helped me the most. You never know, one of these doodles may spark an idea for one of your next designs.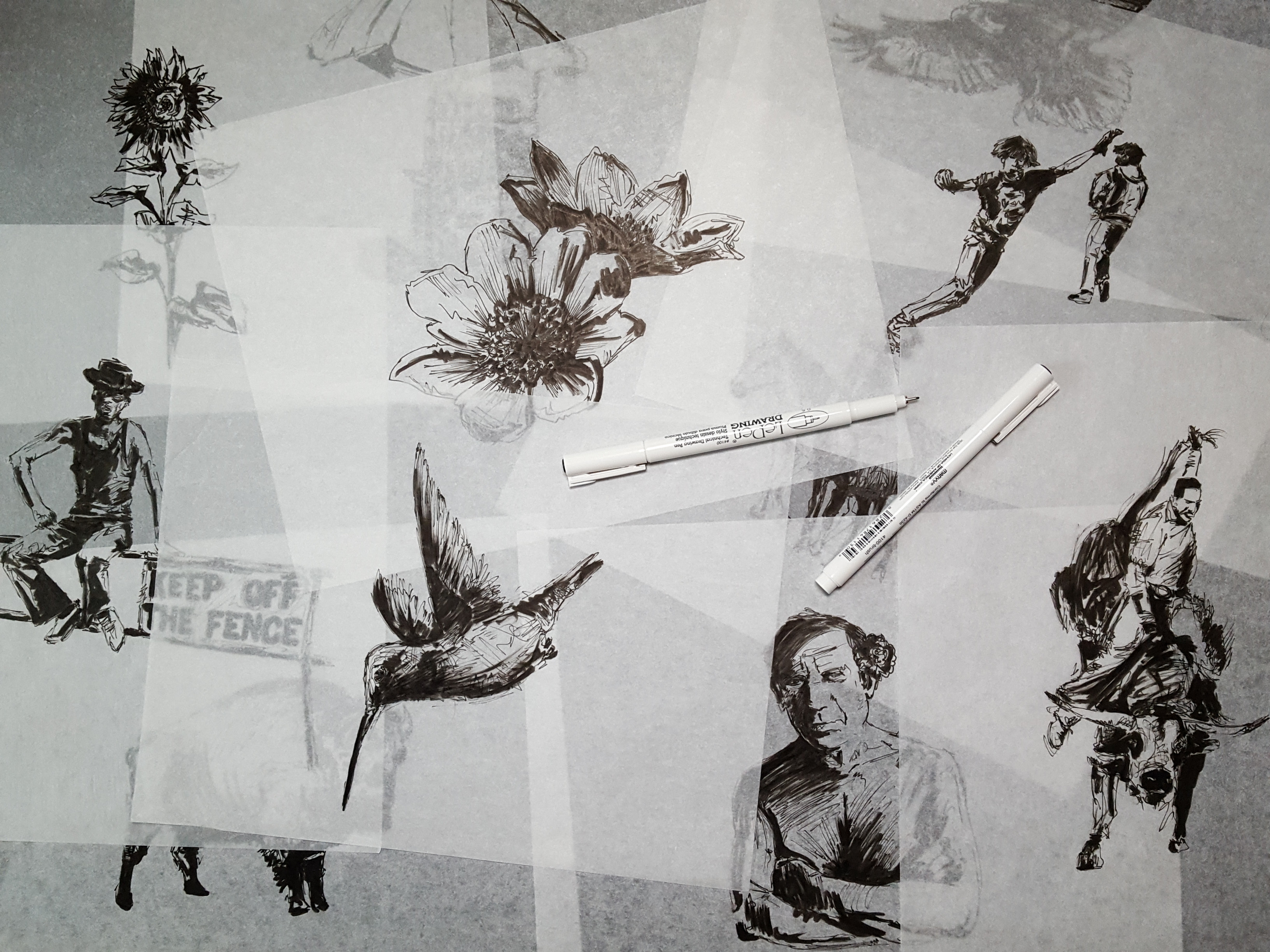 Some of my doodles
Get in the Zone
Now it's time to get to work. Let's turn that computer on, get cozy in that work chair (I STRONGLY suggest getting a comfortable ergonomic chair), and get that Spotify playlist ready and listen to some music or favorite podcasts (Double Toasted Podcast always has me cracking up laughing throughout the day). There is just something about music that really helps me to stay loose and get in a zone while designing. There is a playlist for every mood and day. If you work with a team, download an instant messaging app like Slack or Discord. These apps are a huge help when designs just aren't going your way and you need quick advice or an extra set of eyes. It's also a great way to collaborate and organize tasks amongst your team. These apps can also be a reminder that your team is just a few keystrokes away. Next thing you know you are jamming to some tunes and designing away.
Power Down
Lastly, I would make sure you set a time when work is done and home life begins. That can really be tricky because there is no office where you say "when that door closes behind me, work is officially over''. So save all your work, shut the computer down and throw your hands up and yell "day over"! Even on days when you have deadlines and have to work late, the silver lining is you're already home. To ensure these tips don't become routine and boring, make sure to switch things up. Do things a little differently each day or each week. Instead of starting work right away, go take a drive and get some breakfast, or take care of some errands. Maybe workout instead of taking a walk. Read some articles or blog posts instead of watching YouTube videos. Each day or week can be totally different.
Luckily for me, I love Graphic Design so It's not entirely "work" and more of a fun hobby. Staying motivated isn't that hard but there are definitely bumps in the road where everyone feels that sense of isolation at home. I'm sure there are a hundred other ways people stay motivated and I would love to hear them in the comments below.