No matter what you do, your business probably needs a website. Popular website builders like Squarespace and Wix offer a seemingly affordable solution: build your own website and pay less than what you would for an agency or a developer. After all, why would you pay someone to do something you can do yourself?
I'll tell you why - because website builders cost more than what their price tags tell you. Using a website builder instead of an agency can cost you credibility with visitors, flexibility, new sales leads, and most importantly, your time.
As a business owner, it's your job to decide if these costs are worth it, so let's look into why people use website builders in the first place.
What Is a Website Builder?
Website builders are platforms that allow users to create websites without having to know any programming languages. They often feature "drag-and-drop" editors for building pages, creating a visual experience that many find appealing. The general idea of website builders is to give people a DIY option for creating their own site instead of hiring a developer or agency to do it for them.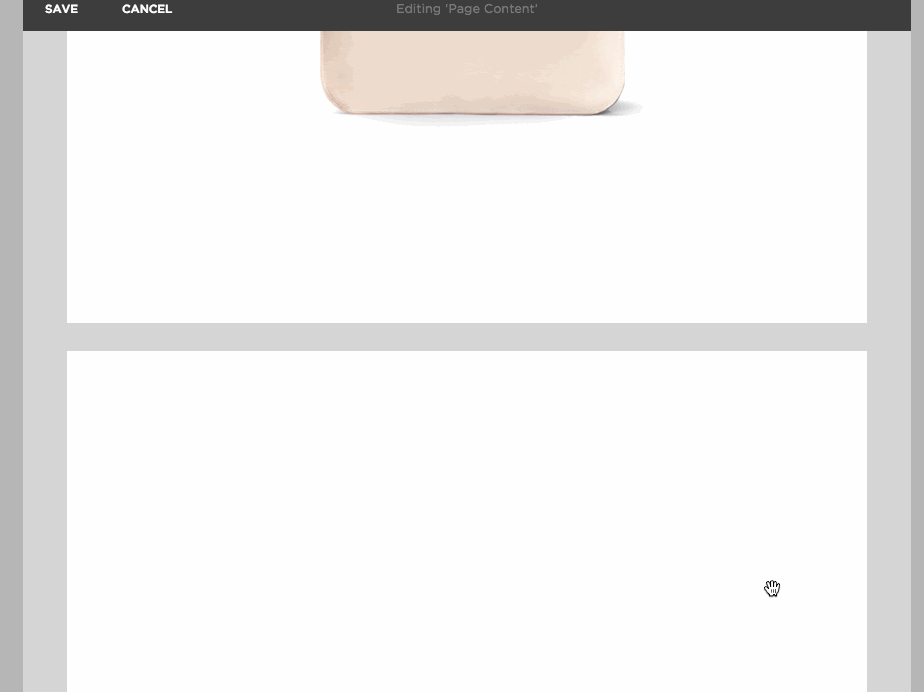 Squarespace's drag-and-drop editor
What Are the Benefits of Website Builders?
Companies that offer website builders as services often tout some of the following benefits of their platforms:
Ease of Use
Objectively, website builders' drag-and-drop editors are easier to use than learning a programming language. Specifically, they feature a very gentle learning curve. Anyone familiar with using a computer and a web browser will pick these tools up quickly.
Maintenance & Infrastructure
"You'll never have to worry about patching or upgrading anything again" is a common refrain for companies offering website builders. These services manage all of the software that your website uses behind the scenes; you won't be asked to upgrade anything manually in most cases.
Up-Front Costs
Compared to the cost of paying a web developer hourly or signing a contract with an agency, page builders seem like the cheaper option. Squarespace's plans range from $12-$40 per month at the time of writing, while agencies will require a larger down payment to get started.
What Does It Cost to Use a Website Builder Instead of an Agency?
Paying an agency to create your website might seem like a more expensive solution than using a website builder, but what can it cost your business when you choose the latter?
A Professional Look
Web design (separate from web development) is the process of choosing things like fonts, colors, layout, and positioning for elements on your site. While website builders do allow you to circumvent the requirement of knowing how to program, they won't magically turn you into a designer.
Hiring an agency means that you'll have professionals creating the designs for your website. Designers know how to incorporate the individuality of your business into your website, helping to solidify your brand. Designing pages yourself could mean that you end up with an unprofessional look, possibly even lowering your credibility with visitors.
The first step to garnering trust is to make your site appear legitimate and professional.
— Aurora Harley, Nielsen Norman Group
Customization
Website builders are black boxes, and that's by design. Because the goal of a website builder is to give people without technical knowledge a way to create sites, the inner-workings of these platforms are intentionally unknowable. The result is a hard-stop on the level of customizability for these sites.
It's not unusual for a business using Squarespace or Wix to outgrow the platform in some way. This is especially common when businesses want to transition to an online storefront or some sort of e-commerce site. While some website builders offer these features, their extreme rigidity can prevent users from accomplishing what they want.
The pre-designed templates that are often a part of website builders can also be a limiting factor for your creativity. You're usually locked into using a template for your pages, some parts of which flat-out cannot be edited or customized.
While this kind of rigidity might be acceptable for some, it can be deal-breaking for others. Without the technical know-how, it's hard to know if the tools website builders provide are the right tools for you.
Agencies, on the other hand, can recommend tools that won't restrict your ideas. They have experience listening to clients, identifying challenges, and selecting the best platform to accommodate your plans, ambitions, and budget.
Analytics-Based Decision Making
Another feature website builders like to offer is "built-in analytics." This usually amounts to an easy way for users to integrate their websites with things like Google Analytics and Google Search Console. While being able to implement these tracking services is useful, a good deal of knowledge is needed to make decisions about how to use that information.
Website development agencies are familiar with analytics tools and how to interpret their data. They can make recommendations on how to improve traffic to your website and how to get more visitors converted into leads. In other words, an agency knows how to create a plan to help your business succeed online.
Your Time
Ultimately, the biggest trade-off you make when it comes to page builders vs. agencies is how you spend your time.
When considering a website builder, it's worth it to ask yourself if you have the time to take the DIY approach. Do you have the time to learn how to design professional looking pages, or to learn multiple analytics platforms? Do you have the time to fiddle with a website builder's e-commerce features, and is it ok if you wasted that time only to learn what you wanted wasn't possible?
If it seems like the answer to any of those questions might be "no," it's important to understand the trade-off you're making. Your site might not end up the most professional-looking, or it might not be getting much traffic. Maybe some visitors will wind up getting turned-off by the experience that your website builder's e-commerce features provide.
These are additional costs that should be factored into your decision.
What's Right For Me?
For some people, these trade-offs are fine. If you're starting a blog about your favorite hobby, chances are those things don't really bother you. However, small businesses, especially small businesses in competitive local markets, should be more cautious. Hiring an agency may ultimately save you time and money, not to mention some stress.
Whatever you decide on, keep in mind that the price tag doesn't just include the charge you see on your monthly bill, but the trade-offs you must make as well.
Want to chat with an agency about building your website?