Marketing agencies often have the worst websites (second maybe to lawyers). They might have a great office or cool business cards, but when it comes to setting aside time and focus for themselves, client work usually trumps. The enthusiasm is there, maybe even the strategy, but after several starts and stops between client projects, many websites become quickly outdated or just never come to fruition.
I've read many articles stating it's best to hire an outside firm to create your site (and even possibly your brand), but our experience was different. We used this experience as a way to hone our message, become closer as a team, and create something together.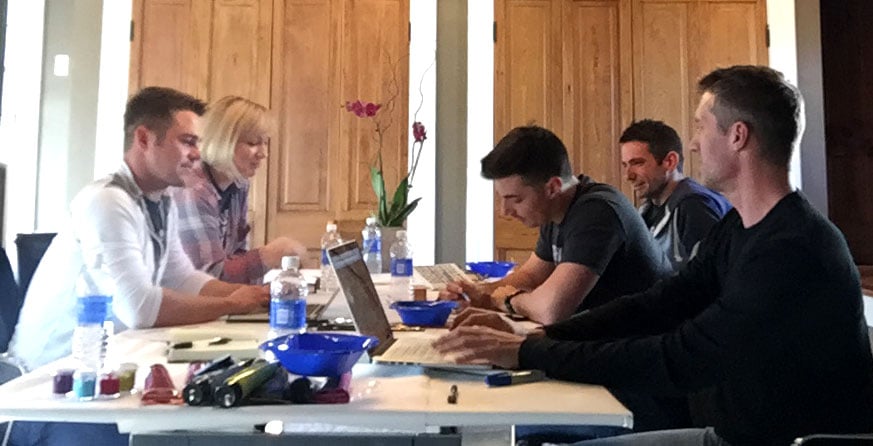 That said, it did take us a while to make this happen. We've been talking about this new site for 6 months or so. The old site was starting to hamper our ability to start meaningful conversations or show the breadth of our work. The time had come...
Here's how we worked for ourselves:
As part of our weekly staff calls, we made assignments to team members that were due by the following week's meeting.
Three team members presented a competitive analysis including interesting features and best practices.
Using this info and half a day from our annual retreat, we finalized our site plan, strategy, and features.
Using Wrike, we then created "tasks" for each Success Story as well as every Page on the site. This allowed each team member to contribute to the different sections of the site.
For Success Stories specifically, we posted a list of questions in each project's "task" and team members could answer based on their unique involvement for that project. All of those notes were then compressed to the story we wanted to share with our potential clients.
We tried to add as much personality to the site as possible - from the homepage images to the bio questions to playful headshots. We feel that showing you a bit about us helps make you a part of our community, which is really what it's all about.
The "Gumbo" was created as a place for us to show our rich history of work, some fun pieces, and smaller projects that we loved, but didn't write Success Stories for.
In the final push to get the site live, we divided our final list of "to-dos" and spent a couple of days - sans client - polishing off the final details and content. Sorry for the MIA if you were one of those clients!

We wanted our site to be full of curiosity and personality, and give enough information about what we do to start a conversation with you.
One takeaway for me is that working for yourself CAN be a great experience, but we are in this business because we love working with others. We love figuring out how to distill your message in the best possible way. We love finding ways to connect you to your audience. We love pushing our boundaries and helping you find yours.
Let's make something great today!